I personally love simple, fast but delicious and healthy food. And these Choconut bites kindly created by Annabel Langbein tick all the boxes for me. Sugar and gluten free little muffins with only a hint of honey and yoghurt to keep it nice and smooth.
I hope you enjoy them as I did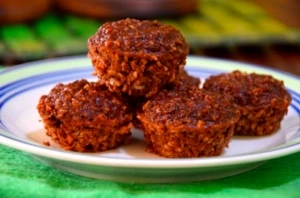 Ingredients:
1 large ripe banana
3 eggs
1 cup plain yogurt
¼ cup honey
1 cup quick-cook rolled oats
3 Tbsp cocoa
½ cup desiccated coconut
3 Tsp Cinnamon
2 Tsp vanilla extract
2 Tsp baking powder
Instructions:
Preheat oven to 175C and lightly grease a 12- hole muffin pan. Unless you use small muffin tray for small muffin bites.
Mix banana, eggs, yogurt and honey in a mixed bowl.
Add all other ingredients and stir to combine evenly.
Divide between prepared muffin cases (about ¼ cup per case).
Bake until risen and cooked through (18-20 minutes). Leave in a pan for 10 minutes before turning out.
Store in an airtight container for up to 2 days or freeze until needed.
Would you like to have more recipes? I've prepared two Free recipe e-books with more deserts, snacks, main meals, salads, even gluten free paleo bread recipes.
Download them below.